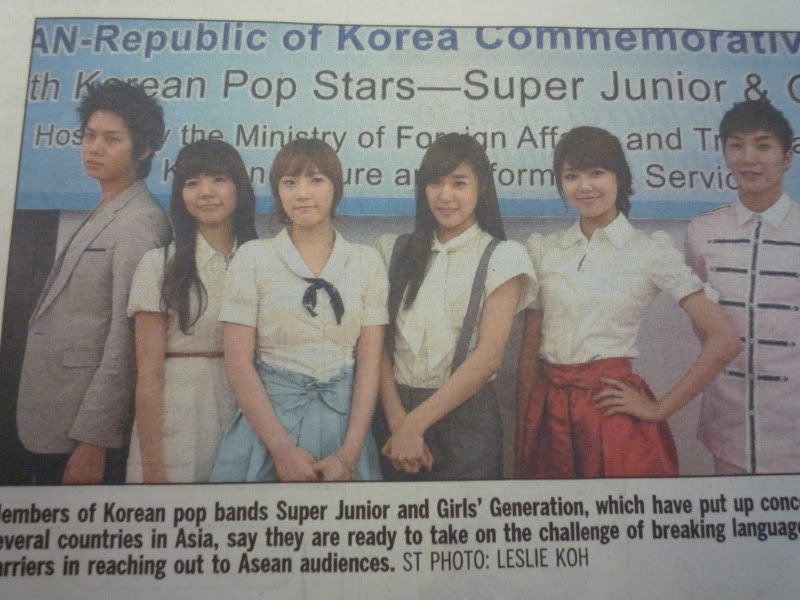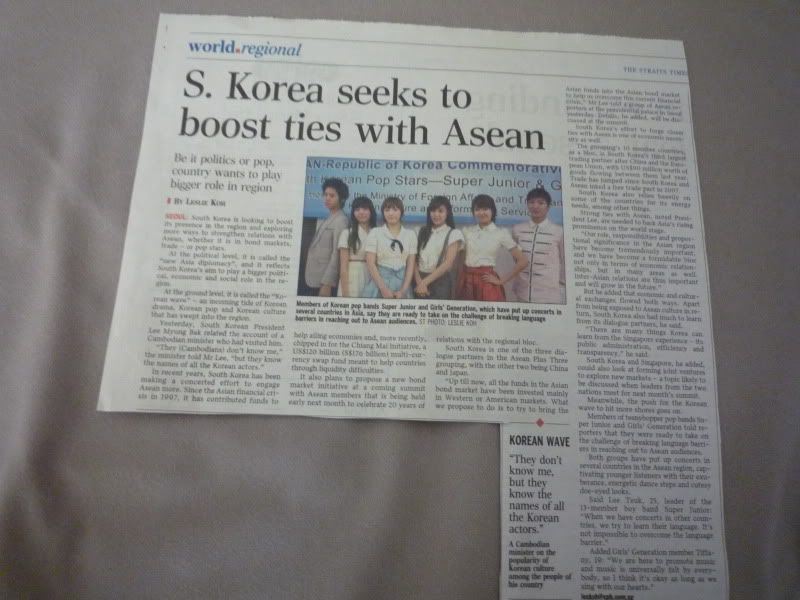 Extracts from the article:
Be it politics or pop, country wants to play a bigger role in the region.
South Korea is looking to boost its prescence in the region and exploring more ways to strengthen relations with ASEAN, whether is it in bond markets, trade - or pop stars.
At the ground level, it is called the 'Korean wave' - an incoming tide of Korean drama, Korean pop and Korean culture that has swept into the region.
Yesterday, South Korean President Lee Myung Bak related the account of a Cambodian minister who had visited him.
"They (Cambodians) don't know me," The minister told Mr Lee, "But they know the names of all the Korean actors."
Meanwhile, the push for the Korean Wave to hit more shores goes on.
Members of teenybopper pop bands Super Junior and Girls' Generation told reporters that they were ready to take on the challenge of breaking language barriers in reaching out to ASEAN audiences.
Both groups have put up concerts in several countries in the ASEAN region, captivating young listeners with their exuberance, energetic dance steps and cutesy doe-eyed looks.
Said Lee Teuk, 25, leader of the 13-member boy band Super Junior: "When we have concerts in other countries, we try to learn their language. It's not impossible to overcome the language barrier."
Added Girls' Generation member Tiffany, 19:"We are here to promote music and music is universally felt by everybody, so i think it is okay as long as we sing with our hearts."
source

: The Straits Times Newspaper (Singapore)
photos and summary

: --dreamx @ sj-world.net
shared by

: cassiELForever